Huddersfield Grammar School students celebrate excellent GCSE results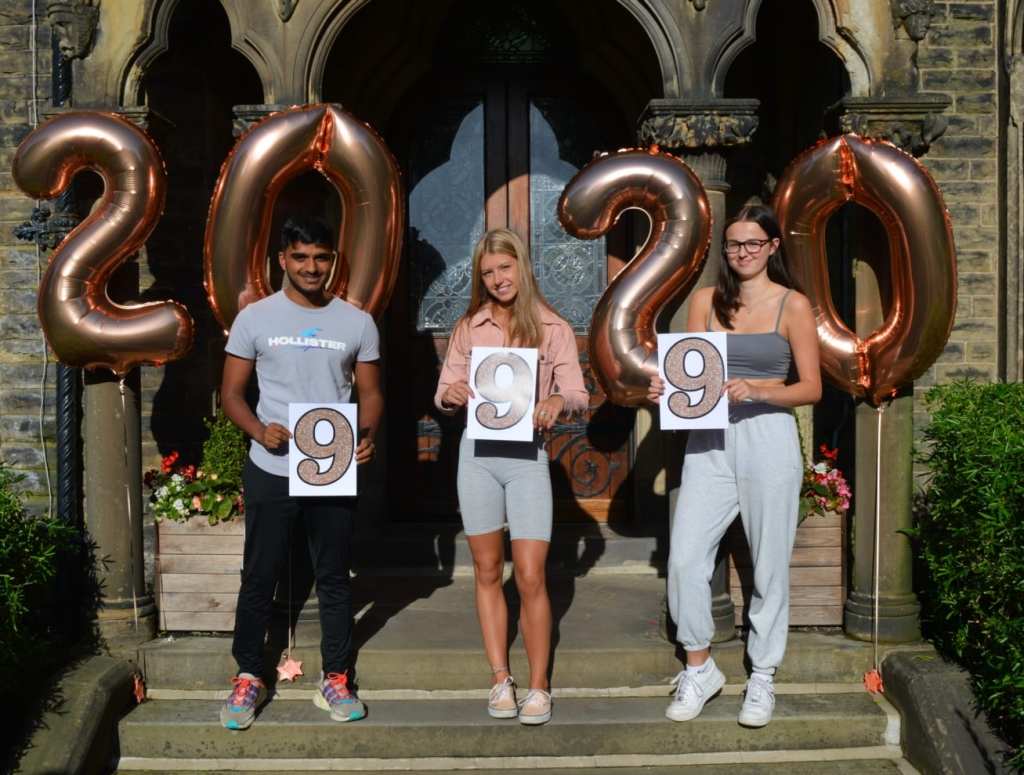 Over half of all students achieved grades 7-9 (A**-A equivalent) in Science, English and Maths
Following the most challenging of times, Year 11 students from Huddersfield Grammar School are celebrating excellent GCSE results today, with eight in every ten grades (88%) awarded exceeding their Year 7 benchmark assessment, up from 79% in 2019.
Further, 100% of students achieved at least five grades at 9-4 (formerly A*-C), including Maths and English, securing an even stronger performance than last year (95% in 2019). This is an excellent achievement for one of the leading non-selective independent schools in West Yorkshire.
The school is particularly delighted that 25% of all subject grades achieved by students were awarded at grades 8-9 (A* equivalent).
Top performers include Head Boy and Girl, Raj Singh and Daisy Hinkin, alongside Olivia Daley, who were awarded a total of 16 Grade 9's, plus Grade 8 in all other subjects (A* equivalent). A special mention also to high achieving pupils, Grace Wragg, Maddy Eastwood and Thomas Cole who have excelled as a result of their hard work and diligence.
Although HGS Year 11 students, like thousands of others across the world, were unable to sit GCSE examinations this year, they used the summer term to improve the skills which will springboard them to success throughout their lives. The school created and delivered a personal development programme which ensured that the students used this period of time constructively and enabled them to develop lifelong skills which will see them to stand out from the crowd when applying for coveted university places and future employment. The programme, called Inspiring Futures ran throughout the summer term and engaged leaders in industry from organisations called InnerDrive, Lead Curriculum and DebateMate to deliver skills based training focusing on non-academic character developments such as leadership, communication, teamwork, creativity and emotional intelligence.
Mrs Donna Holmes, the new Headteacher at Huddersfield Grammar School, said:
'Our present Year 11 students have been outstanding ambassadors in such a challenging time for all. As with many schools, the students have missed out on so much in the culmination of their final school year due to Covid-19, including the opportunity to show their abilities in the Summer exam process. As a school, we are therefore very pleased that they have been awarded the grades that they so richly deserve after much dedication, hard work and commitment throughout their time at the school.
These fantastic results cap a year of change, after an exceptional start to the academic year with the school winning the Independent Schools National Award for 'Successful Change Management' as well as ranking 63rd amongst the Sunday Times Top 100 Prep Schools nationwide, all before being gripped by a Global Pandemic. This unforeseen occurrence saw the school implement an online teaching and learning programme for its pupils and a specialist programme for Year 11 pupils offering A-Level taster sessions and skill-based learning, further equipping them for their next level of education.
I am immensely proud of my colleagues for their continued support of our wonderful pupils. It is down to their dedication that our online timetable was so well received during Lockdown and the connection between students, parents and teachers was so carefully maintained.'
Published on: 20th August 2020