Huddersfield Grammar School students celebrate another year of excellent GCSE results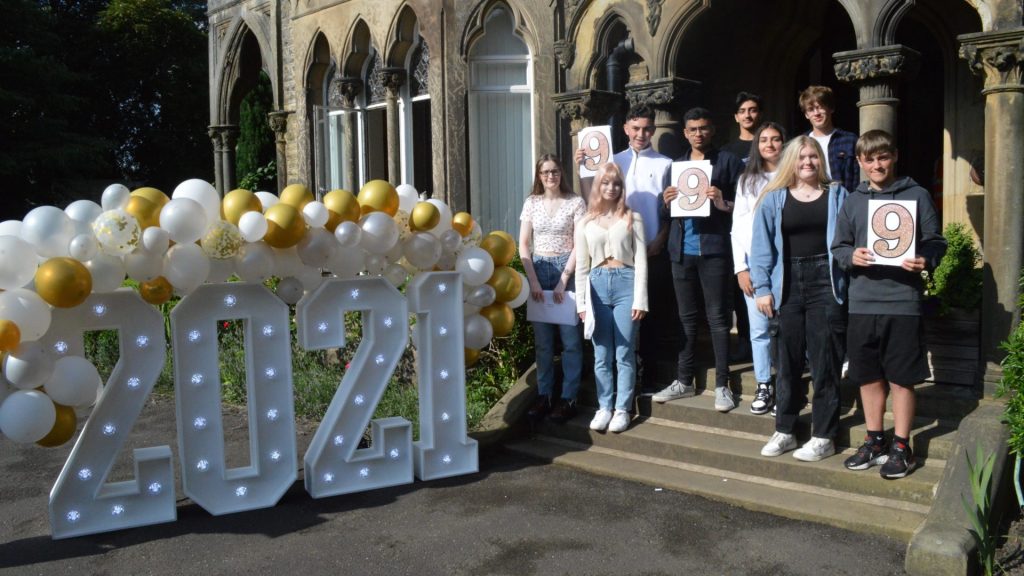 Huddersfield Grammar School celebrates excellent GCSE results with over half of all students achieving grades 7-9 (A**-A equivalent) in all subjects, including English and Maths
Following the most challenging of learning times, Year 11 students at Huddersfield Grammar School are celebrating excellent GCSE results today, with seven in every ten grades awarded exceeding their Year 7 benchmark assessment.
Further, 98% of students achieved at least five grades at 9-4 (formerly A*-C), including Maths and English, showing the strength and dedication of these individuals and the teaching staff at Huddersfield Grammar School, who have maintained the quality of teaching and learning throughout the Covid-19 pandemic.
The school is particularly delighted that 31% of all subject grades achieved by students were awarded at grades 8-9 (A* and A** equivalent), up from 25% in 2020.
Top GCSE performers include Head Boy, Robbie Cartwright, and Deputy Head Boy, Isaam Ashraf, alongside Elizabeth Ackroyd and Danyal Zaheer, who were awarded a total of 24 Grade 9s and Grade 8 in all other subjects. Other high achieving pupils include Matthew Jackson, Grace Reiter, Daniel Wild, Louie Xenos, Aliya Ahmed and Emma Webb who have all excelled as a result of their hard work and diligence, achieving Grades 7-9 in all subjects (A*-A equivalent).
In total, AQA awarded 54% of all grades at 7-9 to Huddersfield Grammar students, achieving double the UK average of 27%. The proudly mixed ability school is particularly pleased to have made an improvement from 45% in 2020. Students at Huddersfield Grammar School also achieved 80% of all grades at 9-5 compared to 54% nationally.
Mrs Donna Holmes, the Headteacher at Huddersfield Grammar School, said:
'I am immensely proud of our wonderful Year 11 students, who have been outstanding ambassadors in such a challenging time for all. As a generation who have only known GCSE through Covid, they have engaged fully, both in the classroom and with 1-2-1 online learning, working with our dedicated staff to ensure their continuous academic journey. There is no doubt that this is due to the connection between students, parents and teachers, which was so carefully maintained. We are, therefore, very pleased they have achieved the grades they so richly deserve after much dedication, hard work and commitment.'
These fantastic results hopefully herald a return to a more normalised school year, without life in bubbles.  Though even in these times, the school is celebrating its third year in the Parent Power Schools Guide, which identifies the highest-achieving schools in the UK. Since debuting in the best schools guide back in 2018, Huddersfield Grammar School has climbed thirty places and is now positioned 54th nationally, standing amongst some of the very best schools in the country.
Published on: 12th August 2021