Farewell from the Headmaster, Mr Seaton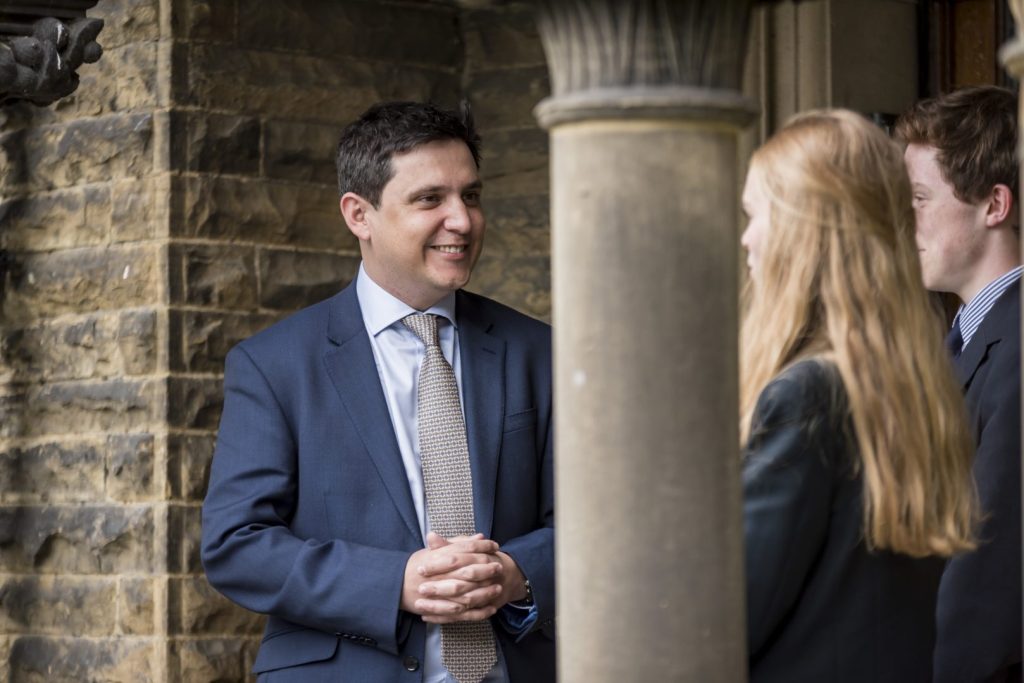 Just over three years ago, I travelled with my family from the distant climes of South East Asia to visit Huddersfield Grammar School for the first time. Over the previous seven years, we had lived amidst the urban discombulation of Jakarta, the lush surrounds of the Eastern Seaboard of Thailand and the stark desert landscape of Abu Dhabi. It was time to come home.
And yet, strangely, England did not feel like home to my two children when they took in their new surroundings in West Yorkshire. It was the Huddersfield Grammar School community that forged this newfound sense of identity for Ellie and Alex, with the unique warmth of its embrace. We will never forget the kindness of those who made us feel so welcome as we took our first steps in our new school.
Over the course of my career in education, I have worked with hundreds of colleagues in six different schools across three continents. No body of staff has ever been as supportive as my colleagues at HGS. When everyone lines up behind a singular vision for success, and a workplace is free of the shackles of everyday politics, manoeuvring and competing agendas, there is no limit to what can be achieved. I have been extremely fortunate to work with such kind, committed and talented colleagues, including my extraordinary leadership team of Mrs Holmes, Mrs McManus, Mrs McMurdo and Mrs Wareham. The fab four!
Our community of students and parents is, of course, every bit as special. Amongst our parents, there is a near-unanimous understanding of the dangers of hothousing children and an appreciation that the whole child is the whole point. Building self-efficacy and allowing children the freedom to discover what their loves and their passions are the key drivers to succeeding later in life, because it is passion that fosters ambition and character that realises it.
Most of all, I will miss the children of Huddersfield Grammar School who have been a sheer delight to work with. Leading a through-school setting has brought many delights, which have ranged from awkwardly throwing 'dad shapes' in joining a mass Zumba session for 3-16 year olds to sampling the delights of our fine musicians, public speakers and actors, and having the privilege of witnessing some extraordinary sporting feats from students of all ages. They are a talented and brilliant bunch.
The working life of a Head of School is far more complex than it once was, and the extraordinary development of technology has brought opportunity and danger in equal measure.
Prior to our technology refresh last academic year, it would have been unimaginable for the school to have delivered an online learning programme that has, against all odds, been so widely supported in our recent pupil and parent surveys. As parents, I now ask for your full support of the wonderful Mrs Holmes, both in the physical and virtual worlds, as she prepares to steer the school through the reopening of its physical site to four of our year groups – and then onto undoubted future success once the challenges of this global pandemic have passed and we can all meet again.
When that time comes, I can promise that I will be back to say my farewells in the oldfashioned way.
Until then, and on behalf of my beautiful wife and children, thank you all for your friendship, loyalty and support.
With best wishes,
Mr M Seaton
Headmaster
Published on: 22nd May 2020